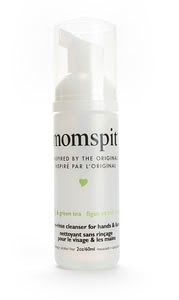 This is Momspit....we at A Savvy Baby came across this today and we are just loving it!
Get clean anywhere and anytime without the need for the kitchen or bathroom sink. MomSpit fits effortlessly into a purse, gym bag, golf bag, hiking pack, picnic basket, briefcase or glove compartment. It sits beautifully on a desk at school or the office and travels well to the theatre, the stadium, the cottage and, dare we say, the dreaded but essential visit to the port-a-potty. Easy to use and easier to install than plumbing, it's about immediate gratification with style in the elimination of dirt, wherever you are and whenever you need it most.

Whether you're urban, suburban or good old country, a soccer mom, golf dude, fashion diva or business suit,MomSpit was designed with versatility in mind. Its for you, when you're on the move and in your groove.
Check it out today!!!